Travel
Christmas in Dublin: 7 Festive Destinations to Tick Off Your Holiday Bucketlist
Planning to celebrate Christmas in the vibrant capital of Ireland this 2023? Every year, Dublin transforms into a magical winter wonderland, with a wide array of festive attractions and activities.
Whether you're looking for fun experiences like outdoor markets, pantos, pub sessions, and theme parks, or you simply want to admire the enchanting light displays and heartwarming carols, the city offers multiple opportunities to immerse yourself in the spirit of Christmas,
If you're planning to visit this charming city during the holiday season, here are some must-visit destinations that will make your Christmas in Dublin truly magical.
1. Admire the Christmas lights around Dublin
As Christmas approaches, many towns and districts in Dublin are adorned with fairy lights, adding a layer of Christmas buzz about the place. Traditionally, a big event marks the "switching on". But in recent years, they halted the public ceremony for the switching on of lights to ensure everyone's safety. 
As of this writing, Dublin Town has put energy-efficient Christmas lights across 25 streets in the city centre. They will be up from mid-November until early January. You can view some of the most impressive light displays and decorations in Dublin's premier shopping districts like Grafton Street, O'Connell Street, and Henry Street.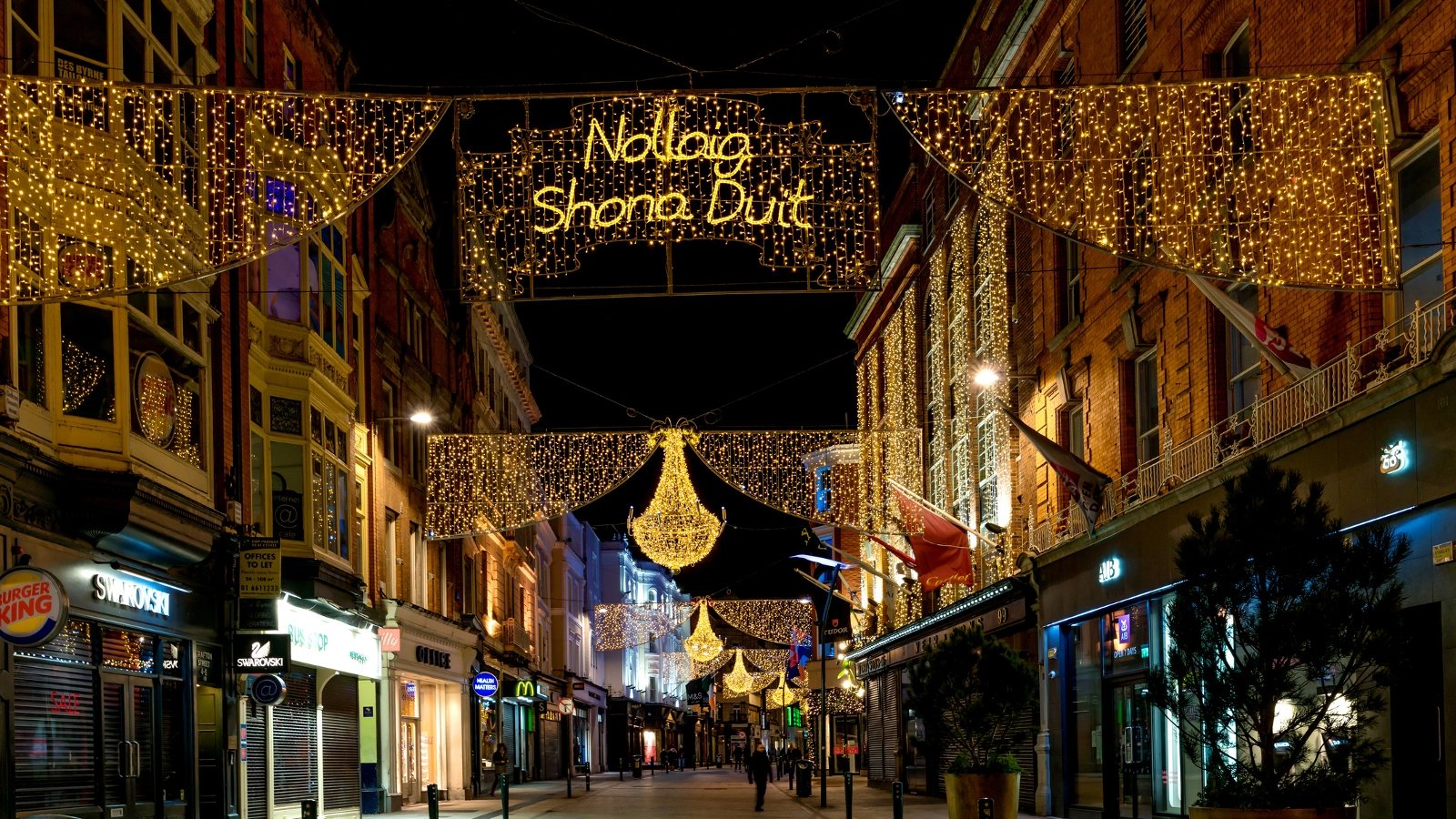 Other places to check out include: 
Anne Street

Smithfield Square

Millenium Bridge

Wolfe Tone Square

GPO

Custom House

Georges Dock

Samuel Beckett Bridge

Seán O'Casey Bridge

Mansion House

Merrion Square Park
Explore the bustling streets and find unique gifts for your loved ones in the city's many boutiques, department stores, and artisan markets. Dublin's urban parks and gardens also come to life with festive lighting and decorations, providing a serene place for a leisurely walk and holiday photos.
2. Check out Dublin Castle Christmas Market 
Dublin Castle is a beautiful destination year-round, but it takes on a whimsical charm during the holidays. Aside from decorations, you'll also experience the heart of Dublin's Christmas magic at the iconic Dublin Castle Christmas Market, which kicks off at the beginning of December each year.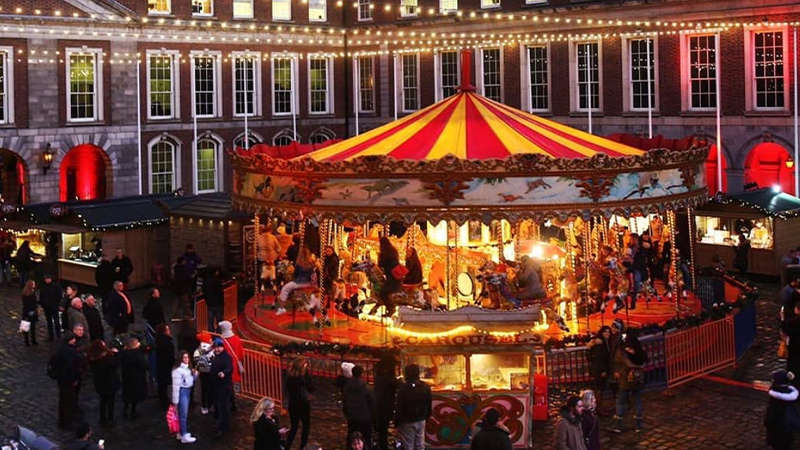 Wander through a charming labyrinth of festive stalls, indulging in traditional Irish crafts, mouthwatering seasonal food, warming mulled wine, and other holiday treats. Aside from Dublin Castle Christmas Market, you may also check out Swords Castle Christmas Market. 
Some parks, gardens, and public spaces may also have smaller pop-up marketplaces that offer handcrafted gifts, seasonal food, mulled wine, and festive delights. Gifted at RDS is one destination worth checking out. "Gifted – The Contemporary Craft & Design Fair", Ireland's premier event for craft and design enthusiasts, runs from December 6-10. 
3. Visit an "Enchanted Zoo" in Dublin
Planning to visit Dublin Zoo this Christmas? Don't head back to your hotel in Dublin after sunset — you surely don't want to miss its annual Wild Lights Event. The award-winning, night-time spectacular returns to Dublin Zoo with a new theme: The Enchanted Zoo. 
Embark on a magical journey filled with fairies, mythical creatures, multi-colored animals, and even a candy land, all lit up as beautiful silk lanterns. You'll also have the opportunity to meet the nocturnal keepers and guardians of the mystical animals and creatures, making it a perfect destination for an unforgettable family outing.
Wild Lights opens on the 16th of November 2023 runs through into January 2024.
4. Discover Wonderlights at Malahide Castle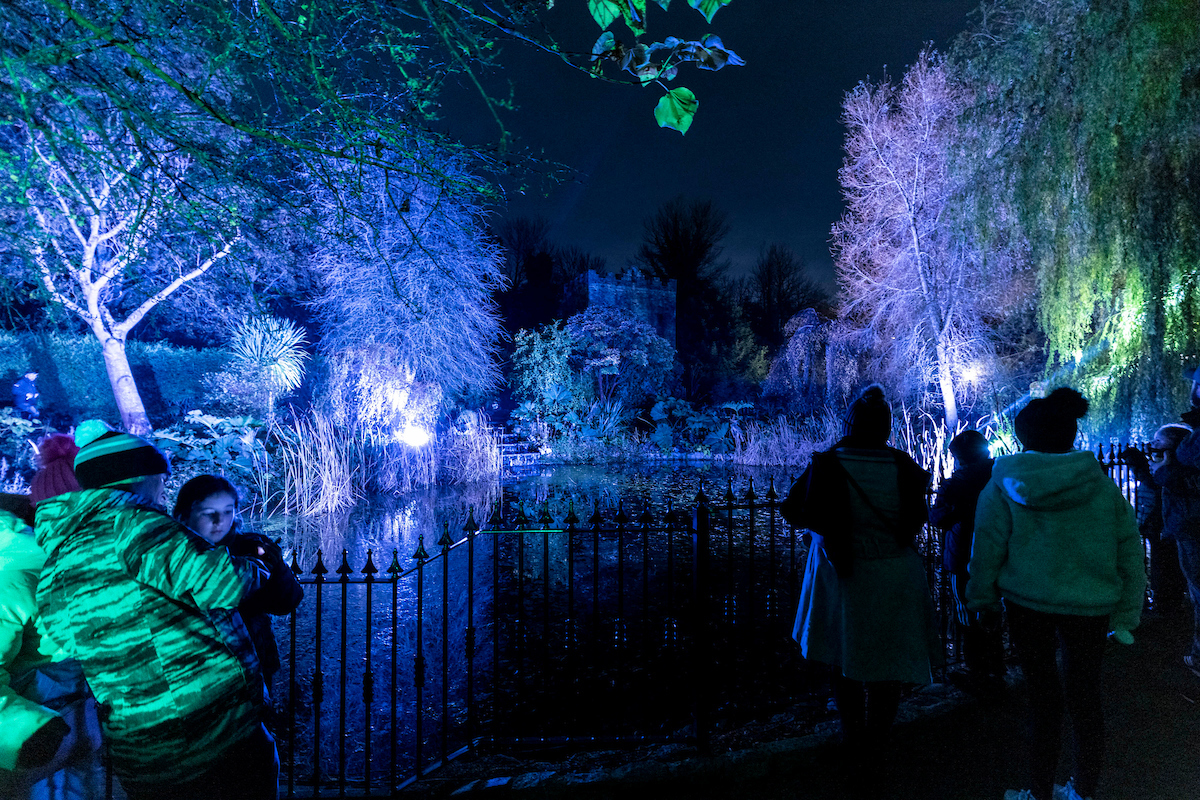 Looking for fun things to do with kids? Wonderlights, Ireland's largest light show, is returning to Malahide Castle from November 10th to January 2nd. The theme this year is "Wonderlights Presents: The Magic of Winter". 
Watch how the landmark transforms into an enchanted castle with illuminated gardens and walking trails. The dancing lights, accompanied by music, are enough to take you on a magical journey this Christmas. 
5. Watch a Christmas classic at Retro Drive-in
Forget Netflix and head outdoors for a movie night. Dublin's Retro Drive-in lets you relive the classic Christmas movie experience. Settle into your car, pile on blankets, and enjoy timeless holiday films under the starry sky, creating a heartwarming cinematic atmosphere.
6. Attend carol services and concerts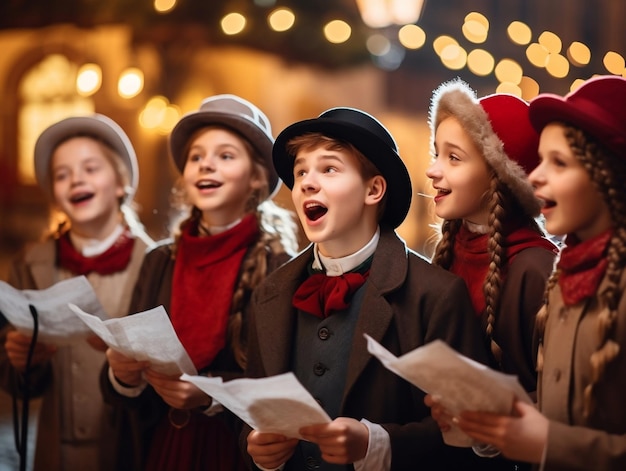 Long before Mariah Carey's "All I Want for Christmas Is You" took over the radio, beautiful Christmas Carols were filling the atmosphere. 
Embrace the spirit of Christmas with the enchanting sound of carols echoing through Dublin's churches and concert halls. Get ready to get some goosebumps as you watch a traditional Carol Service at Christ Church Cathedral or St. Patrick's Cathedral, or enjoy a festive concert featuring renowned Irish musicians and singers.
7. Visit traditional pubs and toast to the season
What's a celebration without drinking a pint or two? The festive season is the perfect time to enjoy the warm and inviting atmosphere of Dublin's traditional pubs. 
These cosy waterholes feature amazing musicians and performers, making them a great place for raising a glass and toasting to the season with friends and family. Enjoy a hearty meal, lively conversation, and the camaraderie of fellow Christmas revelers. 
Dublin truly comes alive during the Christmas season, offering a wealth of destinations to immerse yourself in the festive spirit. From shopping districts and Christmas markets to enchanting light displays and cultural experiences, the city has something to delight visitors of all ages. As you embark on your Christmas vacation in Dublin, may the warmth and joy of the season fill your heart, and may you experience the magic of the holidays in this charming Irish city.
Author Bio: Carmina Natividad is a travel and lifestyle writer. Aside from taking vibrant street photos, you can find her writing articles about travel, food, and lifestyle. To learn more about hotels and travel blogs, you may visit Ashling Hotel Dublin.